"Cooking Is Cool" be healthy – be fit
About Cooking is cool:
The rates of children suffering from cholesterol, diabetes and obesity are increasing every year in an alarming rate due to lifestyles that supports junk food. Unfortunately, nothing major has been done so far to raise awareness
Objective
This is not another cook book that carries various recipes; "Cooking is cool" is on a mission to prevent youth obesity and to encourage our this generation and the ones to come for healthy eating habits. about it in order for parents or even children to make the right choice; therefore, it is safe to state, that "Cooking is cool" is the first Cook book dedicated to children and teenagers with an aim to approach them in there own language and speech and to motivate and teach them healthy eating habits, recipes examples that are easy to prepare and raise sense of involvement by allowing them to come up with their own healthy recipes. In other words "Cooking is cool" is here to change the perception of cooking from children's and teenager's point view, while they become aware of the importance of healthy food. After all, you are what you eat! UNHEALTHY FOOD AND YOUTH OBESITY CAN DAMAGE MORE THAN YOU THINK
About The Author
Valentin Krapf is a German young boy, who is passionate about cooking, especially preparing quick simple healthy snacks and quick healthy drinks. For him is "cooking" fun and cool !He had been a former UAE resident in Abu Dhabi and Ajman and moved to the U.A.E. at the age of 6 months old and became very fond of Emirates and its neighboring Arab countries. Although, he is young in age but his dreams and potential are big, he has a vision for everyone to "be healthy- be fit" and he is working on it by sharing recipes that will put this generation on track. His mother Christine Stibi is a well known former UAE Show Jumping Horseshow coorganizer and International Sommer Camp Initiator and since 2005 owner and founder of the OFFICE FOR GERMAN- UAE – QATAR RELATIONs in Wiesbaden, who creates and realizes a lot of new "bridgebuilder" concepts as well as business tourism to UAE and QATAR . Cause of here various developed and realised, unqiue bridge building projects in cultural, sports and business development topics and using premium sport events as vehicle for meaningful missions and more cultural understanding, she counts as one of the most most comitted UAE and Qatar Fan - and the biggest supporter and furtherdeveloper of her sons "Cooking is cool" healthprevention project , where he motivates kidslike in a new "cool" approach from child to child for a more own responsibility to eat more healthy.
---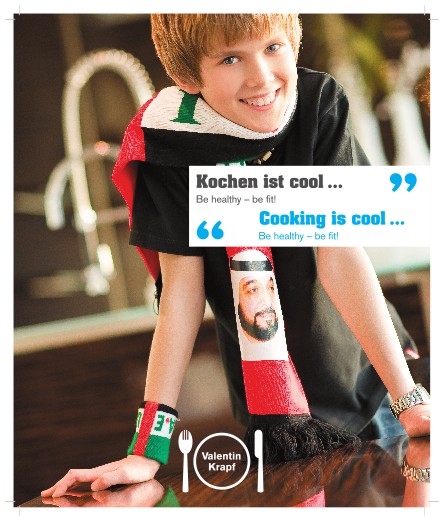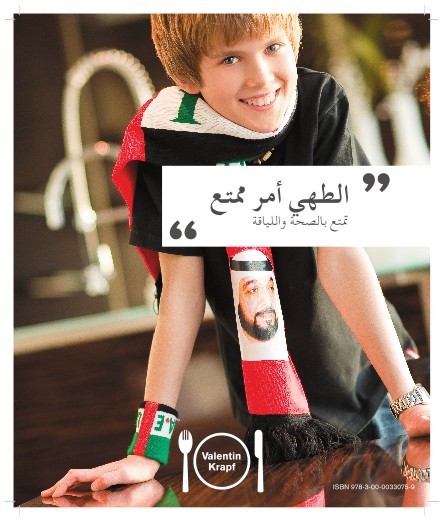 ---
Despite his young age, Valentin Krapf has already achieved international recognition for himself and his passion to motivate other kids for a healthier eating.
With his book "Cooking is cool"
the 1st Version introduced in 2011/2012 to UAE during Abu Dhabi International Book Fair
and in Sharjah during Sharjah Children Reading Festival
and a 2nd personalized Qatar Book Version
introduced during Qatar International Food Festival 2013 in Doha
he has captured kids and adults alike at several edutainment kids signature activities .
More companies, government sections and other authorities and committees are invited to support together with all "early stage supporters" and advertisers the generous distribution of this unique book and bridge builder mission of a visionary teenager to spread out the message at your next function or your upcoming event .
Help together in the fight of obesity - to inspire more and more kids for quality food.
Help to restrict advertising of junk food, foods high in salt, sugar and dangerous fats targeted at children to tackle an epidemic of obesity and other diseases.
---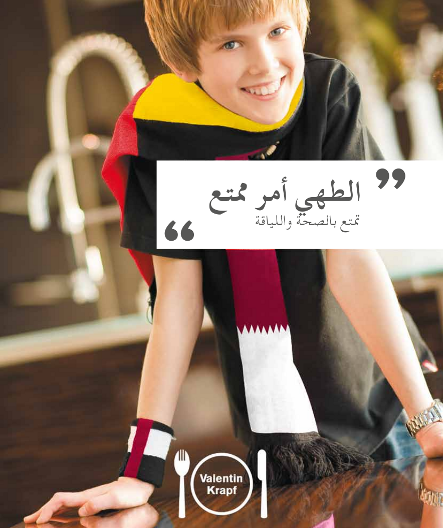 ---
Content
The book is written in german-english and arabic and contains 3 different segments. The first segment contains pre-words from influential people about the book, healthy eating habits, effects of junk food and the relation between the countries 2030 master plan and the importance of a healthy next generation and creative, self-organized future thinkers, cause lazy kids can't be bothered to make a brighter future.
As for the second segment, it contains the food recipes mainly healthy snacks and healthy drinks, that are prepared by the young, "master chef" Valentin, written and displayed in a way to appeal to both youngsters and teenagers. And last but not least, there is a segment dedicated to the reader where they are asked to put their own recipes and get in dialog at home with their own families and inspired to try out own local dishes and start exploring famous "family" recipes.
Again : It is also important to note that the cookingcook s the first German - English and Arabic youth book project and build cultural bridges and opens new dialog between kids of different nations and cultures and opens new chapter in motivating kids.
More Images click to Facebook cookingiscool be healthy – be fit
RPR 1 Radio Interview mit Valentin Krapf 240412_1820_RegBeitrag_RPR1_MZ.mp3 (1.4 MB, MP3, German, 1:30 min)